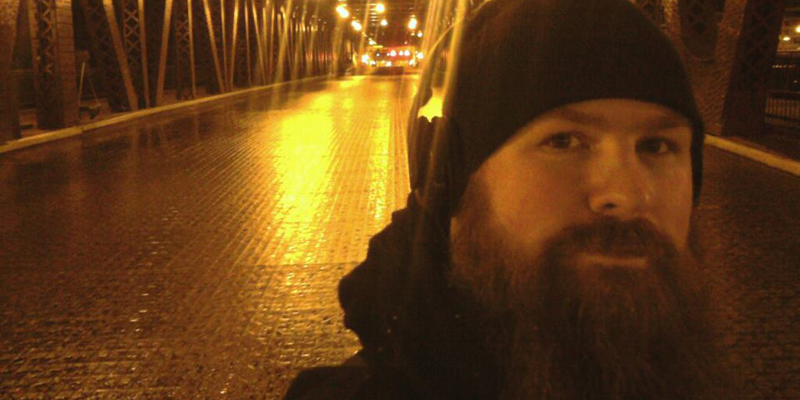 LUKE STOKES
Chicago based DJ, tour manager and merchandiser for several international touring musical acts, comic book writer, and co-host of Abstract Science on 88.7 FM WLUW Chicago.
Luke has been making a name for himself over the last decade and a half while working with Martin Atkins Invisible Records – Undergorund Inc.('98-'03), John Hughs III's Hefty Records ('05-'06) as well as running his own deezal records ('99-'06').
He has been involved in Radio since 1995 when he started work for 88.1 KCOU in Columbia, MO. Working as a dj/producer/music director. In 1999, Luke joined Chris Widman & Henry Self's radio program Abstract Science, now based out of Chicago on award winning station 88.7 fm WLUW. In the past he has been the opening DJ for such artist as: Plaid, Monolake, Amon Tobin, The Field, Roger O'Donnell (x-cure), Christopher Willits, the Cinematic Orchestra, Jaga Jazzist, Tycho, Moderat, UNKLE, Dosh, Apparat, Ben UFO, Active Child, Shlomo, Blockhead, Daedelus, Nightmares on Wax, Booka Shade, Meat Beat Manifesto and countless others. In 2014 Abstract Science celebrated its 17th year on the radio air waves.
Over the last decade and a half Luke has also been touring heavily and handling management & merchandiser responsibilities on the road. Working for such acts as: Damien Rice, Dope, Gravity Kills, Godhead, Mudhoney, My Life with the Thrill Kill Kult, Supreme Beings of Leisure, Pigface, VNV Nation, Fuck Buttons, Still Corners, the Baldwin Brothers, Chris Connelly, Bile, Meg Lee Chin, The Rolling Blackouts, Jaga Jazzist, Sheep on Drugs and countless others while on tour alongside artist such: Disturbed, Corrosion of Conformity, Black Label Society, Static X, Powerman 5000, Mushroomhead, Alice Cooper & Caribou.
Luke has also been published in a book entitled "Tour:Smart". A 500+ page book that looks first hand at the business of touring with input from over 100 industry professionals (from Kevin Lyman of Warped Tour to Henry Rollins). Used as text book at Columbia University's business of touring classes and available at book stores across America.
Luke is currently the writer of the comic books "CPD 70" & "Tales of the Ordinarily Average"
email: luke at abstractscience.net
facebook : luke stokes