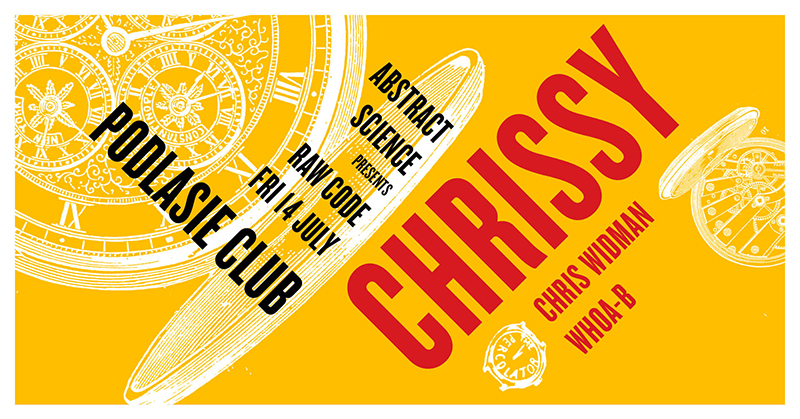 ABSTRACT SCIENCE is back at PODLASIE CLUB with RAW CODE, a night focused on leftfield club sounds at the meeting of midwest dj culture + the UK hardcore continuum. In that spirit, CHRISSY returns to Chicago after 4 long years to deliver a special set of hardcore breakbeat, rave, jungle + electro, alongside veteran ABSCI selectors CHRIS WIDMAN + WHOA-B.
fri 14 july 2023
abstract science presents
RAW CODE
a night of broken techno, cybotronic electro + bass continuum sounds
with
CHRISSY
[hooversound recordings, chiwax, shall not fade, cool ranch, sf, ca]
CHRIS WIDMAN + WHOA-B
[abstract science, wluw 88.7fm]
—
PODLASIE CLUB
2918 N Central Park Ave., Chicago
9pm-2am 21+
—
CHRISSY [hooversound recordings, chiwax, cool ranch, sf, ca]
Chrissy is a genre-bending DJ/producer with releases on Hooversound Recordings, Sorry Records, Classic Music Company, 17 Steps, Dansu Discs, Pets Recordings, and more. He's known for his friendly demeanor, big smile, and unwavering support for new artists and marginalized communities in our scene—traits that shine through in his expansive, multi-genre DJ sets. His selections often center on rave music, Chicago house, and disco, but his multi-decade career has ranged from jungle to footwork to freestyle. This unique form of story-telling has brought him to venues such as Panorama Bar, Smartbar (where he held a residency from 2015 to 2018), and his residency at San Francisco's oldest and most storied queer club, The Stud.
"The living embodiment of a 'DJ's DJ'" — Mixmag
"Chrissy is one of the best DJs to ever walk the earth and I am just going to keep saying it until everyone agrees with me." — The Blessed Madonna
—
ABSTRACT SCIENCE
Abstract Science is future music radio: a weekly exploration of innovative electronic music and its roots since 1997. This staple of Chicago's airwaves investigates the current evolution and influence of dj culture, dance music and experimental sounds on a global level. Co-hosts CHRIS WIDMAN, HENRY SELF, LUKE STOKES, JOSHUA P FERGUSON + BILL BEARDEN (WHOA=B) showcase the latest releases alongside underground classics, overlooked gems, exclusive live performances, interviews and dj mixes.
Past guests of note include ACTRESS, AMON TOBIN, APPARAT, THE BLESSED MADONNA, BONOBO, CONVEXTION, DAEDELUS, DEADBEAT, DJ KRUSH, FOUR TET, JAGA JAZZIST, JUAN ATKINS, LUKE VIBERT, MONOLAKE, MODESELEKTOR, MR SCRUFF, PLAID, RJD2, ROBERT RICH, ROMARE, SHIGETO, SLEEPARCHIVE, SQUAREPUSHER & TRENTEMOLLER. Over the years, abstract science has curated and co-sponsored hundreds of events at Chicago's premiere venues, including residencies at Sonotheque ("Funk the Mental" 2004-2006) and Smart Bar ("Abstract Sessions" 2001-2003 + "Subfix" 2008-2011).
Abstract Science broadcasts every Thursday night (8-10pm usct) on WLUW-Chicago 88.7fm and wluw.org, in addition to a weekly podcast and archives at abstractscience.net.
In 2022, Abstract Science celebrated 25 years years of broadcasting + 1225 episodes with a 25 hour takeover of WLUW-Chicago 88.7fm.